The annual Washington State MATHCOUNTS competition was held this past weekend on Saturday, March 18 at the Microsoft Conference Center in Redmond. 146 winners from chapters across the state came together to compete after regional competitions earlier this month.
The following was the schedule for the day:
8:30-9:00 am: Registration
9:00 – 9:30 am: Welcome, Introductions, Review of General Rules
9:30 – 10:20 am: Sprint Round
10:20 – 10:30 am: Break
10:30 – 11:15 am: Target Round
11:15 – 11:25 am: Break
11:25 – 11:50 am: Team Round
12:00 – 12:45 pm: Lunch
12:45 – 1:15 pm: Special Presentation
1:15 – 1:45 pm: Announcements, Prize Raffle
1:45 – 2:15 pm: Countdown Round
2:15 – 2:45 pm: Team & Individual Awards
For the Sprint Round, competitors worked individually and had 40 minutes to complete 30 questions without a calculator. For the Target Round, competitors also worked individually and received 4 pairs of problems with 6 minutes to complete each, with the use of a calculator.
For the Team Round, competitors in official teams gathered to complete 10 math problems in 20 minutes with the use of a calculator. Solely individual competitors could also participate in unofficial teams.
For the Countdown Round, competitors had a maximum of 45 seconds to answer a question without the use of a calculator. Spectators were allowed after lunch, and during the Countdown Round the room was filled with family and friends supporting the competitors. This round determined the order of the top 10 individuals.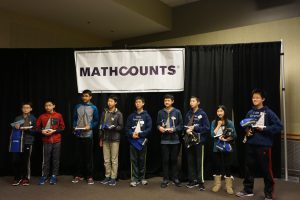 The top placing individuals were:
David Lee
Joy An
Brandon Chen
Daniel Hong
Alex Wei
Justin Chen
Kevin Zhang
Fahmid Rahman
Robert Chen
Jeremy Lin
The top placing teams are pictured below:
The top 4 individuals in each state will form a state team and compete in both team and individual events in the National Competition in May. Congratulations to them!
For more information about MATHCOUNTS, visit here or https://www.mathcounts.org/.